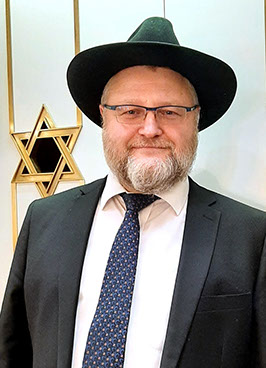 Since December 2022 Shlomo Zelig Avrasin is a rabbi. Shlomo Zelig Avrasin is a rabbi, teacher of Torah and tradition, shochet (kosher slaughter of livestock and poultry), publicist, translator, and a rabbi in the Israeli Defense Forces.
He was born in 1971 in Luhansk. After completing his compulsory military service in 1993, he repatriated to Israel.
Rabbi Avrasin studied at yeshivot "Mekor Chaim" with Rabbi Steinsalz in Moscow, "Gar Ezion (Alon Schwut), "Kirjat gaMiftar" (Efrat); founded the Kollel "Tora mi-Zion" together with Rabbi David Juschuwajev.
He taught Torah in Moscow, Kiev, Lviv, Kfar a-Roe, Karmiel, Jerusalem and many other cities, and worked as a rabbi in Dortmund, Düsseldorf, Moscow, Warsaw, and the Voronezh region.
Rabbi Avrasin worked as a translator from Polish, Russian, Ukrainian into Hebrew in the Institute "Shem Olam", an institute dedicated to the study of Jewish religious life during the Shoah. He served as ambassador of the international organization "Shavei Israel" in the community of Sabbatians in the settlement of Vysokij in Voronezh region and as director of religious programs of the movement "Or Zion". Additionally, he writes articles for several periodicals and websites, and conducts webinars.
He is married, has seven children, who live in Efrat, near Jerusalem.
Hobbies: history, poetry, science fiction, bardsongs.
For appointments ring 0931-4041421
E-Mail: rav.shlomo.avrasin@shalomeuropa.de